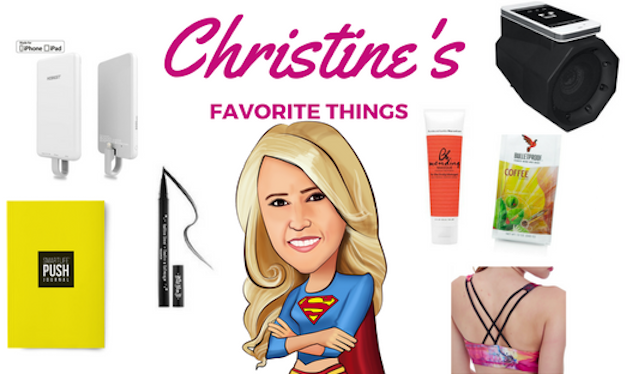 Here you will find some of Christine's Favorite Things – stuff she uses and recommends to all her friends.
Favorite Fitness Equipment.  Favorite Beauty Items.  Favorite Supplements & Nutrition.  Favorite Workout Clothes … & so much more!
**Some of these items may contain affiliate links. I only recommend products that I use and love. But please do not feel obligated to purchase anything through my link.
*All prices are subject to change according to what the seller is listing it as.
The Following Favorites are Provided by Websites Not Connected to Amazon.
All-In-One Life Planner
Life Balance Assessment & Action Plan
90 Day Goal-Setting System
Guided Brainstorm Activities
Daily Goal Progress Tracker
Productivity Powered To-Do List
Discover the power of targeted anti-aging effects with the Derm Exclusive®Introductory Kit. You'll receive four skin treatments that work together to address all four signs of aging—fine lines and wrinkles, sagging skin, dark spots, and dullness. Watch as your skin appears instantly smoother, while with each application your complexion appears healthier with a radiant, youthful glow.
Here's what you get with the Derm Exclusive Introductory Kit:
Step 1: Micro Peel Resurfacing Pads
(15 pads, 30-day supply)
Reveal super-smooth skin with a peel that exfoliates dead cells and shrinks the appearance of pores.
Step 2: Intensive Repair Serum
(1 fl. oz., 30-day supply)
Treat dark spots and uneven texture similar to a laser treatment as you help speed recovery from past damage and restore skin's luminosity.
Step 3: Collagen Lift
(1 fl. oz., 30-day supply)
Boost collagen production for firm, lifted skin and reduce the appearance of wrinkles with astonishingly powerful results.
Step 4: Fill & Freeze Wrinkle Treatment
(0.04 fl. oz., 30-day supply)
Instantly plump lines and wrinkles while reducing the appearance of dark circles. This breakthrough product gives injections and fillers a run for their money!
30-day money-back guarantee
If you don't experience a dramatically more youthful-looking appearance, simply call and return the products within 30 days, even if the bottles and jars are empty, to receive a refund of the purchase price (less s&h).
In just 3 short days,You'll conquer your cravings. Get a flatter belly. Feel lighter and more energized. And your clothes will fit better.  You can get your health, energy, and vitality back on track—all without starving.
The Complete Kit comes with 3 packets of Shakeology®—your choice of several delicious flavors (we recommend choosing a vegan flavor because plant-based proteins are often easier for the body to digest), 6 packets of Vanilla Fresh (high-protein shake), 3 packets of Fiber Sweep (digestive health drink), and 1 Program Guide.
Shakeology®
Your Daily Dose of Dense Nutrition.
Why you need Shakeology now*
Shakeology can help you*:
Lose weight
Reduce cravings
Feel energized
Support healthy digestion and regularity
It tastes delicious, too.
How Shakeology works*
Ingredients derived from exotic nutrient sources deliver the daily vitamins, minerals, and other nutrients your body needs to help curb cravings and help you lose weight
Key antioxidants and phytonutrients help reduce free radical damage
Fiber, prebiotics, and digestive enzymes help support regularity to gently eliminate waste, support healthy digestion, and help nutrient absorption
What's in Shakeology*
Protein and essential amino acids help build muscles and reduce food cravings
Prebiotics and digestive enzymes help support healthy digestion, regularity, and nutrient absorption
Antioxidants and phytonutrients help fight free radical damage
A daily dose of vitamins and minerals provides your body with what it needs to function for optimal health
Enjoy healthy nutrition RISK-FREE for 30 days with our Bottom-of-the-Bag Guarantee
If you don't feel healthier, more energized, and simply amazing, you won't pay. You can return Shakeology for any reason and get your money back (less s&h)—even if the bag is empty!
Power up your performance and get a jump start on recovery with the Performance Stack. It includes two crucial formulas—Energize and Recover—to help give you a blast of energy, sharpen your focus, improve your performance, and speed recovery. With this stack, you'll be on your way to a better body in no time.*
Take Energize before every workout to help sharpen your focus, push harder, and last longer—because every ounce of extra energy means better results. Energize contains key ingredients scientifically shown to buffer lactic acid buildup and delay exercise-induced muscle fatigue, improve performance, and help you push with maximum intensity.*
Beachbody Performance Recover 20 Serving Tub
Help combat exercise-induced muscle soreness and jump-start recovery so you can hit every workout with strength and intensity. Recover takes advantage of the critical post-workout window with the ideal combination of time-released proteins and phytonutrients to help facilitate muscle recovery while helping to reduce muscle breakdown. Take Recover after every workout to help combat exercise-induced muscle soreness, speed muscle recovery, support muscle growth, and restore your strength.*
Annual All- Access Beachbody On Demand + Shakeology + 21 Day Fix Containers and Meal Plan
            WORKOUT ANYTIME, ANYWHERE
Stream hundreds of Beachbody's most popular workouts online with Beachbody On Demand.
Get unlimited access to every Beachbody program on Beachbody On Demand, including all new workout releases. With this Challenge Pack, you get 24/7 streaming access on your smartphone, laptop, tablet or TV, anywhere you have internet access. Instantly stream every single workout for popular new hits like the line-dancing inspired Country Heat®, the mixed-martial arts inspired Core De Force®, plus our full library of proven fitness programs like 21 Day Fix EXTREME®, INSANITY® MAX:30, 3 Week Yoga Retreat and more. Plus, you'll get a 30-day supply of Shakeology that helps support healthy energy levels and reduce cravings, to get the best results possible, even faster.
Your first 30-day supply of Shakeology – the superfood supplement shake with dense nutrition to help support weight loss, healthy energy levels, and reduced cravings‡, Shakeology is your catalyst for change to simplify your nutrition without compromising on taste—delivered on Home Direct, our monthly automatic shipment delivery program which you can cancel at any time.*
Annual Membership to Beachbody On Demand (70% off with the purchase of this Challenge Pack, limited time only!) includes unlimited, total access to every single program, even all deluxe and Beachbody On Demand exclusive workouts. Your Membership also includes access to Beachbody's newest Cooking Show – FIXATE™. There's nothing more to buy, and all future programs are also included. When a new program launches, you get it, FREE. When it's time to renew your membership, you'll automatically be billed annually until you cancel. Cancel anytime!*
Portion Fix – an easy-to-follow system with seven color-coded containers, Shakeology shaker cup, and nutrition guide that tells you how much to eat to lose weight!
Premium annual membership to the Team Beachbody Club, where you'll find all the support you'll need to get amazing results, plus a 10% discount on all future purchases on TeamBeachbody.com.