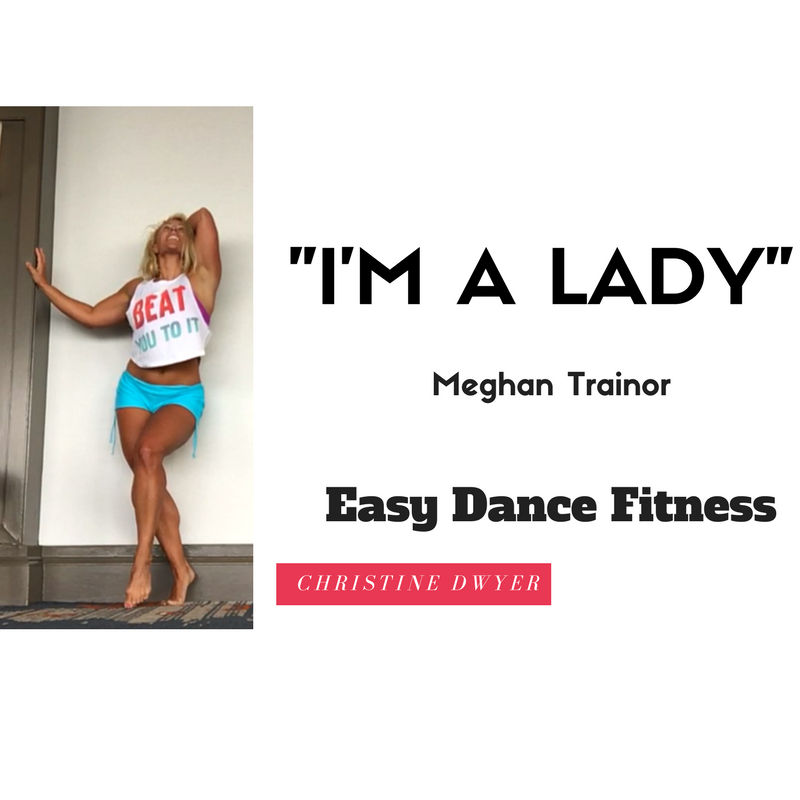 Are you a FAN of Meghan Trainor?
Love to Dance?
How about Love to Dance and get a Workout?
This is an EASY Dance Routine to Meghan Trainor's song, "I'm a Lady."
You can do this as your own workout or feel free to learn the choreography and teach it LIVE in your Dance classes in the gym, group fitness, or wherever!
This dance routine is meant to be easy to learn, teach, and do but is super intense and burns a lot of calories!  Zumba has made dancing very popular in group fitness as well as their style of simple moves that repeat throughout the routine.
I'm a Lady – Meghan Trainor – Dance Choreography
Step Knee Drop Single Single Double (2x)
Step Sexy Walk Pull Back 4x
Slow Tip Toe Walk Up 2x – 4 Fast
Step Touch 2X Hold- Pump 4 (Repeat 4x)
Wide Criss Cross Whip Arms 4x
Squat Hip Grind Turn Around 4 cnts Right
Squat Hip Grind Turn Around 4 cnts Left
Step Single Knee, Knee, Shuffle Hop 3 Right Knee on 4
Step Single Knee, Knee, Shuffle Hop 3 Right Knee on 4
Scoop Up 4x
Wide Shoulder Shimmy Hop Back
Step Single Knee, Knee, Shuffle Hop 3 Right Knee on 4
Step Single Knee, Knee, Shuffle Hop 3 Right Knee on 4
Step Touch 2X Hold- Pump 4 (Repeat 4x)
Squat Hip Grind Turn Around 4 cnts Right
Squat Hip Grind Turn Around 4 cnts Left
Step Single Knee, Knee, Shuffle Hop 3 Right Knee on 4
Step Single Knee, Knee, Shuffle Hop 3 Right Knee on 4
Scoop Up 4x
Wide Shoulder Shimmy Hop Back
Sideways Cross Walk Up 4x
Stand on 1, Squat on 2, Pivot Front Cross Heart Arms, Shoulder, Hand Flick on 3 and 4
Grapevine Attitude With extended Leg 2x
Wide Body Shake turn Left 4cnt
Sideways Cross Walk Up 4x
Stand on 1, Squat on 2, Pivot Front Cross Heart Arms, Shoulder, Hand Flick on 3 and 4
Grapevine Attitude With extended Leg 2x
Wide Body Shake turn Front 4cnt
Step Touch 2X Hold- Hold 4 (Repeat 4x)
Step Touch 2X Hold- Pump 4 (Repeat 4x)
Squat Hip Grind Turn Around 4 cnts Left
Step Single Knee, Knee, Shuffle Hop 3 Right Knee on 4
Step Single Knee, Knee, Shuffle Hop 3 Right Knee on 4
Scoop Up 4x
Wide Shoulder Shimmy Hop Back
Pose