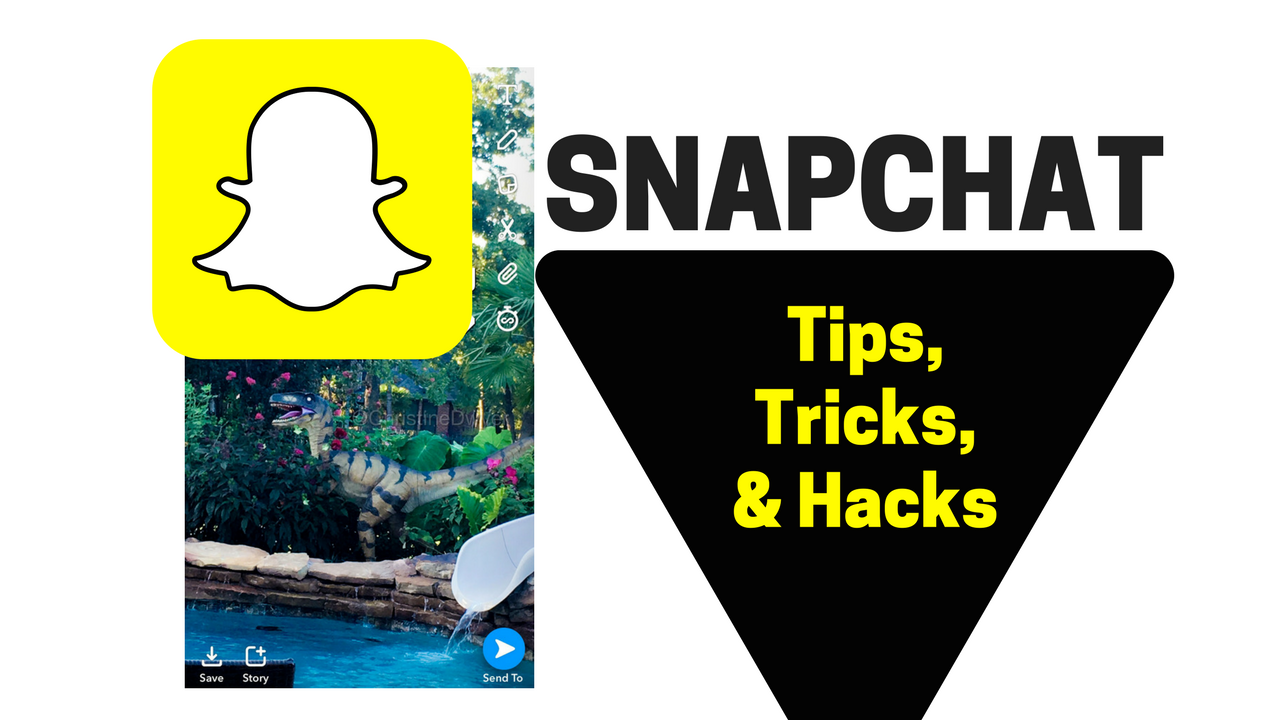 Are you looking for SnapChat Hacks?
Or are you just trying to figure out how to use SnapChat all together?
SnapChat isn't only for the millennials but surely has a place for everyone, including Baby boomers! 😉
You may also find some Snapchat Hacks you never knew!
Here are some of the best Snapchat tips and expert tricks to take your snap game to the next level:
Selfie Lenses:
Lenses are also referred to as filters and many snapchat users are very familiar with them. P.S.A. The Dog lense isn't funny anymore. 😉
First of all, to gain access to the selfie lenses, all you need to do is hold your phone with the camera facing yourself and tap on the screen on your face. This will bring up the current lenses available for the day.
To access WORLD lenses, all you need to do is reverse your camera screen to view away from you, and a whole new experience of lenses and animations pop up! Hot Diggity Dog!
Infinity Snap:
SnapChat Messages and updates use to post for as short as 1 second up to 10 seconds before it would disappear.  But sometimes, trying to grab a screenshot of a snap is so hard to manage.
Use the infinity loop option on your post when you are posting something you REALLY want your followers to see or screenshot.
Your followers will now need to tap the screen to move forward in your story from that snap.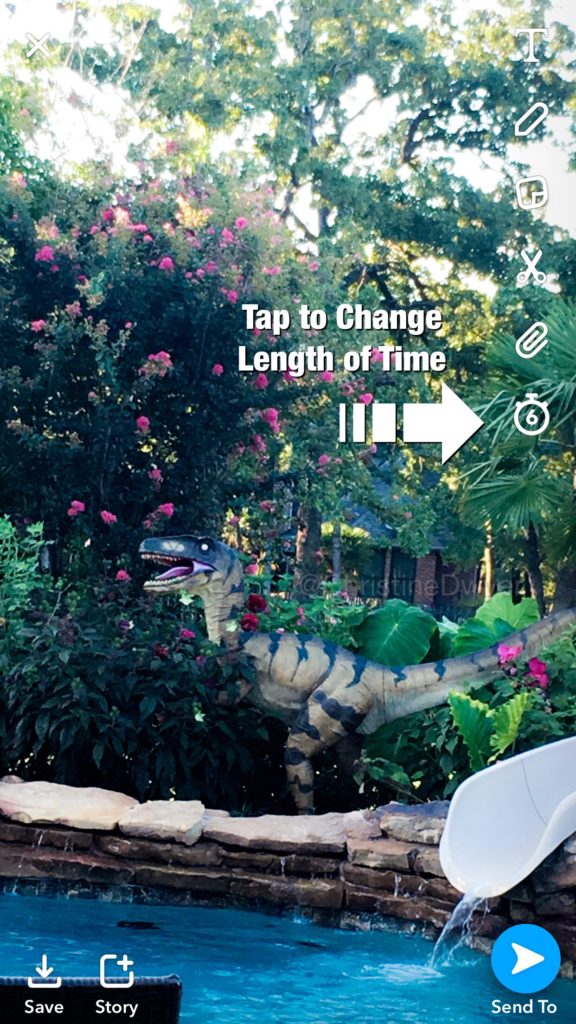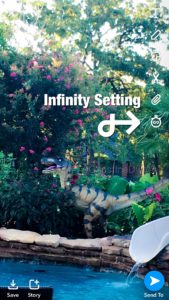 BEWARE – Turn it off though! The fastest way to decrease your following and really annoy them is by leaving it on for ALL updates.
Zoom While Recording:
While holding the record circle, slide your finger up on the screen and this will zoom. Sliding it down will un-zoom.  It's ok to slide your finger off the recording circle to do this as well!
Filter Stacking:
If you want to use the black and white filter, slow motion, and in reverse…. you can easily do that!  Once you have your video recorded, swipe the screen left to choose the color filter you want to use.  When you have that on screen, hold your finger down on the screen and swipe with another finger to move through the options of speed. Once you have the speed selected, release your finger hold, then hold it down again to swipe for the final speed/direction option.
Attach a URL to a Snap:
Following taking your picture or video, tap on the paperclip on the side bar.  Enter in the URL you'd like to have attached to this snap update, tap GO.  Now, you can direct your following to swipe up if they want to go directly to the URL of interest in your post. One of the great features in using SnapChat is that your URL's will be stored for future use.
AutoPlay Stories:
You can easily select all of your friends stories to Auto-Play one after another.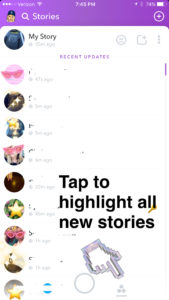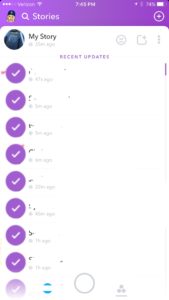 If you don't want to watch all of them, and would like to deselect some stories from the autoplay sequence, just tap on the purple checkmarks of the friends you do not want to autoplay.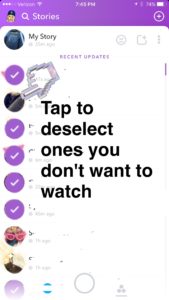 Who is Following YOU:
Ever wonder if so and so is following you back? Easy!
Tap on your Profile in the upper left corner,
Tap on My Friends
Tap on the person in question.
If they have "numbers" after their name, that means they are following you.
If they don't, they are not following you. You additionally won't know when someone unfollows you unless you check for this number.
If you're curious about any other person following you, just type their snapcode name in the search field and look for those numbers.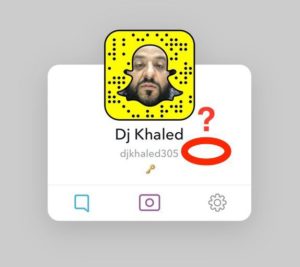 Snap and Post Later:
Unsure how many videos you should post of the concert you are attending? Don't annoy your followers with too many snaps of the same content. Save them & then post later.  Snap and save all you want. Then when you have time to review all your snaps- choose the best ones you want to go public on your story and post to story.
Use SnapChat Editing Features:
Don't have the ability to cross out someone's name, or cover up something in a photo, or just want to add quick text and arrow to your picture to post on Facebook?
Snap your pictures or videos using SnapChat's camera, Edit your content to create the perfect picture or video, and then just tap in the lower left corner, the save option.
This will save to your SnapChat memories in which you can select and export to your camera roll.
Auto Export to Camera Roll:
Tired of taking that extra step of saving your snaps, then tapping to have it export to your camera roll? Just auto save your snaps to your camera roll anytime you tap SAVE. No need to take that extra step to export.
Tap on your profile in the upper left corner
Tap the Cog Wheel in the upper right corner
Tap on Memories, and select Save to…
Re-Purpose SnapChat Content:
If you're using multiple social media platforms like Instagram Stories, Facebook Stories, or Messenger Day….don't spend double or triple time re-recording the same video for each platform, just record on SnapChat and repurpose!
If you are saving your snaps to your camera roll, you can now upload these snaps to Instagram or Facebook as a new story update. Here's how you would do it for Instagram Story:
Take your Snap Picture or Video (edit if you want)
Save to Camera Roll
Open Instagram app.
Swipe Right then Swipe Down
All of your Camera roll pictures and videos from the past 24 hours will be available to upload to your story.
BEWARE – You can re-purpose the content you capture using other social media story boards to SnapChat as well, but it's not a good idea to do all the time because SnapChat will include a white border around your post shrinking it slightly and include "Camera Roll" in the upper left corner.
Each social media platform has it's likes and dislikes in how users use it. SnapChatters get annoyed when someone treats it as "second fiddle" and constantly uploads content from their camera roll.
Additionally, SnapChat is meant to be more realistic and real-time, unedited.  Quite honestly, you can Snap a picture of yourself, save to camera roll, edit the picture using another app to shrink your waistline, create abs, and remove unwanted blemishes and then upload it to Facebook or Instagram stories and no one would know the image was edited.
Song Identification:
Ever hear a song that you love and want to know the name of it? If you're in the store, at a game, or just near someone in the airport playing a song out loud, open your snapchat app and hold down in on the screen away from the picture/video circle and SHAZAM! That's right…Shazam is another app that can identify any song.
Create your own GEOFILTER:
Celebrating a birthday? Family Reunion? High School Reunion? Conference? Ever wish you could easily create your own location geofilter so everyone can use that on their snaps? Now you can!
Tap on your Profile in the upper left corner
Tap on the cog wheel in the upper right corner
Tap on On-Demand Geofilters
Follow the prompts to create a personalized GeoFilter using the base default filters available.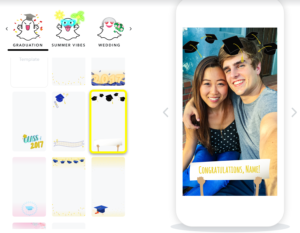 Feel free to add text, emoticons, clipart, designs and more on top of the default filter of choice.
Obviously, the larger area of availability and timing of your geo-filter will define the price.
Secretly Open a DM without them Knowing:
Ever receive a DM from someone you don't know or know, but don't want them to know you read their DM so fast? This will take some practice mastering, but tap on your chat bubble in the lower left corner, and on the new chat slide your finger without letting up from left to right on the person's chat line. This will slide open their message and reset back like it was never opened ONLY IF you never take your finger off! Be sure to slide right to open but slide back left to reset.
Group Private Chat:
Click on your chat bubble  in the bottom left corner, select on the friends from your friends list that you want included in a group private chat.
Share this blog post so your friends can join the COOL CROWD of SnapChat users!
Find more social media marketing and business tips on my Facebook.com/CoachDwyer