Try these top tips to stay hydrated!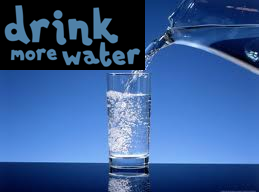 1. Sip on sports drinks and coconut water.
When we sweat, we lose electrolytes, which are minerals found in the blood that help to regulate (among other things) the amount of water in the body. Sports drinks (Powerade and Gatorade) can help prolong exercise and rehydrate our bodies because they contain electrolytes, which plain old water does not. While an ordinary workout may not require electrolyte-replenishing, those participating in longer and more intense periods of exertion, such as running a marathon or going through a particularly intense workout, will benefit from a good dose of electrolytes mid-workout . Not in to sports drinks, or want a more natural alternative? Try water-enhancing electrolyte tablets or coconut water.
2. Try fruit
Many fruits are a great source of both electrolytes and fluids, though the dose of electrolytes can differ from fruit to fruit  . Bananas and dates are known for having high levels of the electrolyte potassium, making them a great option for refueling during an intense workout (for example, a long run)  . To stay hydrated while keeping up electrolytes, it's important to drink water while munching on fruit (fruit contains some water, but not as much as your water bottle).
3. Take frequent water breaks
One of the first signs of dehydration is dry mouth. If your mouth starts feeling like the Sahara, head to the water fountain (or take a sip from your reusable water bottle!). A short water break between sets or during quick breaks from cardio can help stave off exercise-induced dehydration.
Want daily tips and motivation? Follow me on facebook!